Sidebar – Sick of checking your phone every 30 seconds? Try the CryptoHopper SaaS bot to automate trading, and never lose out on an overnight swing again.
Elliott Wave Analysis
The Elliott Wave theory continued to make a case for its usefulness over the last 48 hours, and also, we were able to observe what happens when a real-world wrinkle gets thrown at it. As in most things theory, it's perfect in a vacuum, but when acted upon by real world forces, the results shift a bit. As a reminder, lets look at the Elliott Wave chart example from elliottwave-forecast.com: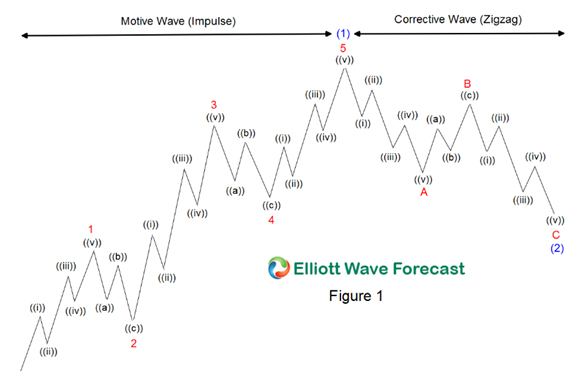 I was hypothesizing during my Saturday analysis that we were in the beginnings of a second smaller cycle, and beginning the "3" leg of our larger cycle. I still believe that is the case, but a curveball was thrown Sunday night when the Bitcoin market dumped, dragging the rest of the crypto markets down with it. This threw a wet blanket on the rest of the action for today, and investors were notedly more cautious, meaning it pushed the motive wave lower than I had predicted.
This was actually an excellent buying opportunity! For example, VET went all the way down to .07 cents and then rebounded in about 30 minutes to .22! This is just a reminder to never be to rigid with your approach, and to make sure to be able to note outside forces, and pivot. There is always money to be made in a selloff.
However, back to the DOGE chart, and the end result. Originally I had predicted .50 as the threshold of the top of the next motive phase, but we never quite got there…. ~.43 cents was about where everyone got skittish and starting taking profits. There is now hard resistance at .40, and we've moved into the corrective phase of the wave cycle.
However, I could see a push overnight for it to shed 10%-20%. That honestly just depends on when the wave gets started.
Let's also not forget, its 4/20 tomorrow (a notable day for DOGE – usually optimism is "high" – couldn't help myself haha), and I predict we may see a few celebrity tweets to boost the DOGE price!
For me, since I originally got in on DOGE at 26.5 based on the original wave analysis, I feel reasonably comfortable to sit tight, and it was fun to watch this unfold as the bulls and bears duked it out today. Tomorrow, I think we see a spike and a quick sell. I may take some profits myself if we get an Elon tweet and DOGE ends up in the .70 range, but it will depend how busy I am at my day job, and how closely I'm watching the markets.
Hope this was enlightening!
DISCLAIMER: This is not investment advice. However, if you liked the content, and found it helpful, you can tip me at my DOGE address here:
DTYBz3Hyo5yw1MTyoNYRh8HjJebQF1P3s9